TW3·GP

 hybrid method… Reduce the average difference by 

0.39

 vertically
[E-Daily Reporter Park Il-kyung] Crescom , an artificial intelligence ( AI ) venture , announced on the 19th that it has released 'MediAI -BA' , an AI- based bone age analysis software .
' MediAI-BA' last year conducted clinical absolute value of the average difference between the tests referred to in Standard 0.39 years ( 95 % CI 0.33 – 0.45), the medical device approval in March KFDA this year.
"The Crescom MediAI-BA ' is the world's first hybrid solution that incorporates only the advantages of the representative bone age assessment techniques of Tanner-Whitehouse3 ( TW3 ) and Greulich-Pyle ( GP).
A Crescom official said, " The satisfaction and trust of the medical staff who participated in the MediAI-BA pilot service were very high."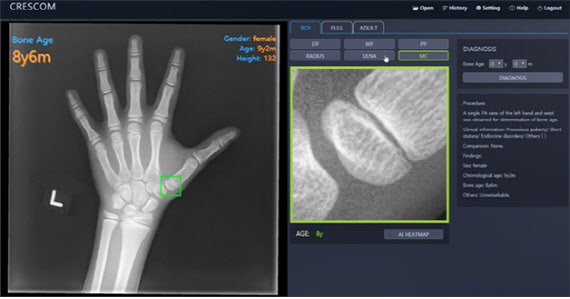 (Photo = Crescom)
In the GP measurement method, bone age is measured by comparing and analyzing pictures of the target children's hand bones by referring to a standard diagram containing pictures of hand bones standardized by bone age at intervals of about one year. Although the GP measurement method can quickly check the test result, there is a research result that the focus area may differ depending on the reader and some deviations occur.
The TW3 measurement method determines the bone maturity grade for each of the 13 parts of the hand bone, and calculates the bone age by summing the scores corresponding to the grade. Unlike the GP , the overall evaluation of the major growth plate regions in the hand bone has little variation, but it takes a long time to read and an ambiguous nine-stage bone maturation grading can affect the accuracy.
Crescom MediAI-BA increases accuracy and complements the limitations of GP and TW3 by applying the patented technology integration advantages. In order to enter the global market , it received CE certification and ISO 13485 : 2016 international quality management certification in 2019 , completed registration by the European Food and Drug Administration, and is pursuing advancement in cooperation with various organizations in the Middle East and Southeast Asia.
In commemoration of the official launch of the MediAI-BA service, Crescom plans to hold a promotion that allows medical professionals to experience accurate artificial intelligence bone age analysis for free.
Park Il-kyung ( ikpark @ edaily.co.kr )
---